HEY Trail Runners!

For a limited time, we've got an awesome competition going on > Buy any pair of Salomon trail running shoes and be in a chance to WIN one month of TRAIL RUNNING coaching courtesy of The Trail Co.
How do you participate? SIMPLE!
Visit our shop in Qormi. We offer personalised shoe fitting and expert advice for choosing your first (or fifth!) trail running shoe.

Your details will be taken by one of our team members,

A draw will happen on Sunday 26th May 2019. One of you lucky trail runners will win one month of Free coaching!
Who exactly is 'The Trail Co.'?
The Trail Co. was created by an ex-staff member of our shop, out of a passion for the most primal of sports; the one which has shaped our evolution as human beings >> trail running!
The aim of The Trail Co. is to offer bespoke training programmes which are not heavily structured and therefore allow athletes to embrace the freedom that trail running inspires.
The Trail Co. also organise training camps in the Alps which, apart from being great active holidays, are also great preparation if you are embarking on a mountain ultra.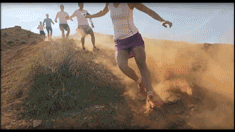 Why do you need a trail running shoe?

A trail running shoe is simply a shoe which has more features aimed at running on rough terrain. These might include better grip, ground feel and specific cushioning/stability for tough runs.

Ultimately though, a good trail running shoe will open the door for some epic runs in nature; trail running is as close to natural as we possibly can get! We were created for running in the wild!

Buying your first pair might be a struggle... You read various reviews online and you do not know which one to choose? Or perhaps, you are doing your first ever obstacle course race?

That's why we are here! We will help you choose the best trail running shoe for your specific running style and needs!

Please do not hesitate to contact us if you need more information!

Visit us today!